Barksdale Natural Resource Office
Office Address:
Barksdale Natural Resources, 6141 Range Road, Barksdale AFB, LA 71110.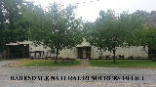 The office is located across the street from Clear Lake Park and just before the bridge adjacent to Cullen Park, near Famcamp, on the East Reservation.
PHONE NUMBER: 318-456-3353
FAX NUMBER: 318-456-1321
Office Hours:
We are typically open from 7:00 AM to 4:00 PM, Monday thorugh Friday; closed from 11:30 to 12:30 for lunch. Keep in mind that our natural resources management duties frequently take us out of the office for field work. If you are having trouble catching us at the office, please phone ahead to make sure someone will be at the office or make an appointment. On managed firearm hunt days, the office will be open for the duration of the hunt, but natural resources personnel may only be manning the check station.